Plastic Bags can be recycled into Fabric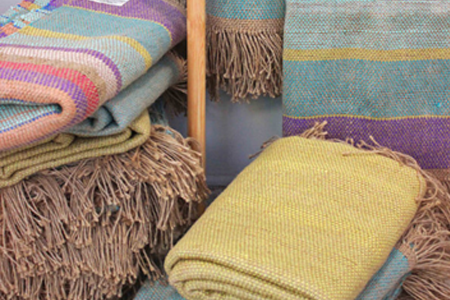 Plastic bags are a major generator of greenhouse gases and hazardous waste. 
Plastic takes around 300 years to degrade and are difficult and costly to recycle. They are used for packaging, containing goods such as eatables, chemicals, waste, magazines etc.
With the wide usage of plastic, with 40% only being used for a single time, they pose a major threat to Earth's ecological system.
In order to make our Planet habitable for future generations it is imperative that sustainable options are adopted in the economy of textiles.
Reduce, reuse and recycle is the mantra for Plastic Waste.
Plastic bags between 500 billion and one trillion are thrown every year which end up in the landfill.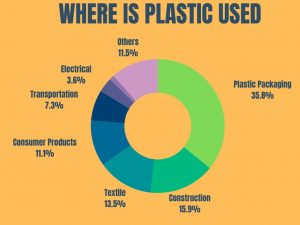 A Cairo-based design firm Reform Studio has come up with an innovative solution to transform the plastic bags into a fabric, with the intention of extending the life of all that old plastic.
This fabric is made by weaving plastic bags on a conventional Egyptian handloom. Also, the fabric also won the inaugural Ro Plastic Prize announced at Milan Design Week.
The final product made is washable and long lasting as well as it can keep out sand and dust.
Also, the small company has saved around 10,336 bags from the landfill and the designers have created a series of four different patterns plain, striped, zebra, and plaid that are all based on available quantities of recycled plastic bags.
They have used the material to manufacture furniture collections; including upholstering the chairs that can be found in many Egyptian coffee shops as well as other more contemporary chair designs with colorful Plastex.
The studio also launched a more general collection called "Re" that uses Plastex as its central material and includes high and low stools, benches, storage bags, and placemats.
Visit Gartex Texprocess India, a leading textile and garment exhibition in India, held at Pragati Maidan, New Delhi and Jio World Convention Centre, Mumbai, and learn about the latest technology, cutting-edge equipment, materials, and services in the industry.
More News
Register Now
Show Countdown
MUMBAI
Jio World Convention Centre, Bandra Kurla Complex, Mumbai
DELHI
Pragati Maidan, New Delhi
days
Hours
Minutes
Seconds