Why Fabrics and Accessories are an important part of Gartex 2018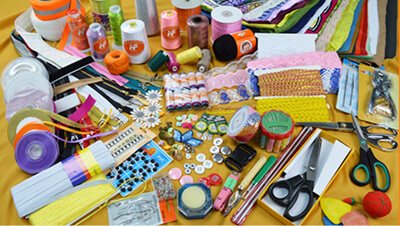 Fabric and Accessories plays an integral role in the textile supply chain. In its 3rd glorious edition, manufacturers are gearing up to showcase their latest developments in apparel fabrics, garment trims & embellishments
Gartex 2018 is an excellent opportunity to witness new product launches that have recently hit the market or are yet to be released. It is an opportunity to establish strategic partnerships with the new manufacturers, retailers and distributors for better future growth and to gain new techniques for development from the dynamic market.
Following ceaseless demands from our exciting exhibitors, Fabric and Accessories pavilion has been created as part of the much-hyped Gartex 2018. The organisers this year have decided to dedicate Hall No. 9 of Pragati Maidan, New Delhi completely to this pavilion and facilitating exhibitors with a much more focused business environment to deal with.
Why Fabrics and Accessories Pavilion?
Dedicated to the growth and development in the segment, Fabric and Accessories Pavilion is designed to offer the opportunity to showcase your innovative, exclusive, latest fabric and textile variants as well as accessories to help industry define the trends. The pavilion will highlight the most extensive range and latest innovations, especially from fabric, yarn and accessories.
Fabrics and Accessories Pavilion forms an integral portion wherein the top decision-makers, established retailers, importers, institutional buyers, distributors, dealers, designers, agents and end-users are all part of the show.
More News
Download
Register Now
Show Countdown
MUMBAI
Date: Dates to be announced soon.
Bombay Exhibition Centre (BEC), Mumbai
DELHI
Pragati Maidan, New Delhi
days
Hours
Minutes
Seconds