Revolutionary Trends in the Textile Industry
Textile Industry is one of the leading sectors in the Indian economy with around 14% contribution to total industrial production.
One of the basic human needs is clothing. As long as we exist, the market presence of the textile industry is inevitable. The ever-evolving textile market shows immense growth and potential to exemplify human creativity.
The United States happens to be the largest producer of raw cotton and the largest importer of natural textiles and garments globally.
India stands in the third position in the league as the largest textile manufacturing industry. It is solely responsible for more than 6% of global textile production.
With a compound annual growth rate (CAGR) of 8.8%, the global textile market increased from $530.97 billion in 2021 to $577.83 billion in 2022. At least temporarily, the Russia-Ukraine conflict hampered the possibility of a COVID-19 pandemic-related global economic rebound. Economic sanctions on several nations, a rise in commodity prices, and disruptions in the supply chain as a result of the conflict between these two nations have all had an impact on numerous markets around the world. At a CAGR of 5.7%, the global textile market is predicted to reach $722.32 billion in 2026.
Production of high-fiber fabric is capable only with the implementation of modern solutions. This advancement in the technology of the textile industry is helping it touch new heights in terms of revenue generation. Textile Industry includes materials, i.e., Cotton, Jute, Silk, Synthetics, Wool. It mainly works with two processes, woven and non-woven.
The textile industry is shifting towards cost efficiency and sustainability. Let's look at the significant trends in the global textile industry:
Index:
Increase in demand for sustainability / natural fibers in Textile Industry
Organizations and consumers are more aware of sustainability now than ever, so there is an increase in demand for natural fibers. They have a quality of being lighter in weight and more substantial than other fibers. Plastic Bags are turned into fabrics.
Natural fibers like cotton, silk, linen, wool, jute, and cashmere help manufacture garments, apparel, construction materials, medical purposes, and interiors of automobiles, mainly cotton, silk, wool, jute, and cashmere.
Natural fibers in China, India, and the United States enable the global textile industry to sustain and chart exponential growth. The increase in demand for natural fibers will be the future of the worldwide textile industry.
Wool and jute are known for their resilience; silk is also known for its smooth luxury, widely used in upholstery and apparel.
The strategy of the industry players focuses on improving environmental performance by teaching one of the best accessible advances in fiber processing and preserving nature in the process of production.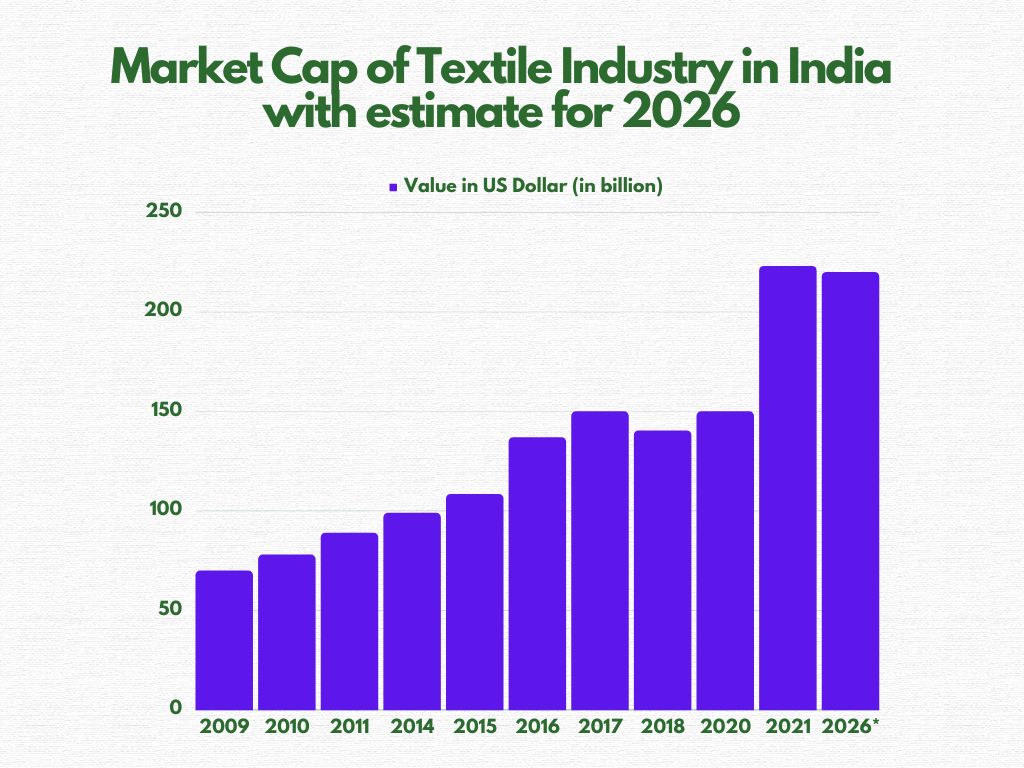 With emerging technology, up-gradation, and innovation, the garment and textile industry can constantly match consumers' needs and wants. It helps with the ecological process and implementation of the venture.
The latest technology that has made its way in the industry is the dissolution of cellulose ionic liquids and subsequent regeneration.
Textile Industry Shifting its focus toward Non-woven Fabrics
The increase in population has brought a rise in demand for products focused on hygiene.
Non-woven fabrics contribute to road construction in the form of geotextiles which is helpful for the durability of roads. Diapers, sanitary pads, and other hygiene products fuel the demand for non-woven fabrics.
The rise in demand of non-woven textile has been due to their
 Flexibility
 Cost Effectiveness
 Tenderness
 Wash Ability
 Strength
 Comfort
The increase in the population has brought a rise in demand for products focused on hygiene.
The automobile and transportation industry also expects to push the development of the non-woven textile market soon. Non-woven fabrics add significantly to the automobile industry's exterior and interior parts manufacturing.
Increasing Demand for Natural Fibers
Due to their durability and versatility, there is a heightened demand for natural fibers. They have the quality of being lighter in weight and more substantial than other fibers. Most natural fibers are biodegradable, making them an ideal choice for the textile industry, which is seeking eco-friendly products as an answer to the growing environmental concerns.
Some of the popular natural fibers are:
Cotton
Silk
Linen
Wool
Cashmere
A significant factor in the growth of the sector has been the rising demand for natural fibres, and given that this demand has been steadily rising year after year, it is expected that this trend will continue.
Advancements in Technology
Latest innovations and rapid advancements in technology in the textile industry are aiding the progress to cater to the increased demand for non-woven fabrics.
Thermal energy in a dye house is generated from boilers and utilized in dyeing machines, stenters, dryers, thermic fluid heaters, and more which helps operate at low efficiency.
Most dye houses are dependent on the state's electricity and often face power shortage issues. This issue is raised because of the massive electricity consumption and less accessibility to electric equipment like motors.
With the present situation and the rising trends, the prediction is that India's textile industry will evolve distinctly to meet the global needs.
Processing is the main stage in the value chain, consisting of various intricate variables, i.e., adding easy-care, wrinkle-free value addition in design and color properties. Synthetics and chemicals play a critical role in developing fibres and textiles.
A rise in digital textile printing
Digital textile printing is any ink jet-based method of printing colorants onto fabric.
The adoption of digital printing processes and Dye Sublimation Printing in the textile sector has increased recently, and it is expected that this trend will continue as technology advances.
Digital textile printing has several benefits, which help to explain why this technology is so well-liked in this sector:
Cost-effective: Compared to traditional textile technology, digital printers use less material. Smaller textile companies like being able to fulfil smaller orders without incurring additional costs.
Fast turnaround: You may quickly change your design or fix digital designs from your computer and print them rather than having new rotary screens for every minor error.
Flexible: You have unrestricted design flexibility with digital printing. A digital technology's graphics can be displayed on as many screens as desired.
Sustainable: Since digital prints distribute ink onto fabric precisely, there isn't much ink waste or unnecessary chemical waste that could harm the environment.
The development of digital printing technology in recent years has greatly facilitated the textile sector. According to a study of the textile market, they will likely have a significant effect on the industry in the future.
Personalization and Data Analytics
From management automation to product inspection, artificial intelligence and data analytics are used in many ways. These tools quantify fabric creases and identify visible flaws. To improve corporate processes, machine learning algorithms uncover previously undetected operating trends.
AI also monitors consumer behavior to improve recommendations and gain knowledge of market swings. In this approach, data-driven solutions boost workflows, manage the labour force, and raise the caliber of the finished product.
With virtually trying clothes on and virtual tailoring using 3D scanning and modelling, there has been a considerable demand for garments that buyers can modify for their preferences, purposes, and occasions.
Individual customers are directly involved in the conception, size, and fitting of products thanks to modern technologies. So they collaborate with manufacturers to co-design and co-create. Online practices also provide higher levels of client satisfaction thanks to information on behavior, preferences, and objective physical measurements.
Laser Technology
The accuracy and adaptability of laser technology are the main drivers of its expanding application. For the benefit of creativity and production efficiency, laser technology enables us to acquire specialized and highly complicated treatments in a very short amount of time.
Using minimal environmental impact treatments and procedures, textile laser technology ushers in a green revolution. Laser marking of textiles enables a net decrease in production time and a water usage reduction of up to 60%. Additionally, it enables a variety of effects, such as bleaching and the vintage effect on jeans, to be achieved without using chemicals or contaminants. The laser's maximum accuracy and efficiency eliminate energy and material waste for high-performance and environmentally responsible production.
By 2029, it is anticipated that the Indian textiles market as a whole will be valued more than US$ 209 billion.
Drastic changes have been brought to the business approach of the manufacturers as they become more aware of chemical processes, polymer sciences, and comprehension of intricate biochemical responses.
Since the introduction of sewing and weaving, one thing has led to another time after time. Latest technological advancements have brought developments in the fashion industry and are part of revolutionary changes.
Revolutionary ideas and opportunities emerge from implementing the latest advances, new technology, and sustainable processes.
Are you keen on matching pace with what's new in the garment industry?
Participate in India's leading textile and garment exhibition, Gartex Texprocess India 2023, held in New Delhi and Mumbai, and learn about the latest technology, cutting-edge equipment, materials, and services in the industry.
More News
Register Now
Show Countdown
MUMBAI
Jio World Convention Centre, Bandra Kurla Complex, Mumbai
DELHI
Pragati Maidan, New Delhi
days
Hours
Minutes
Seconds