Gartex Texprocess India Webinar Series
×
WANT TO WATCH THE VIDEO? PLEASE FILL THE BELOW DETAILS: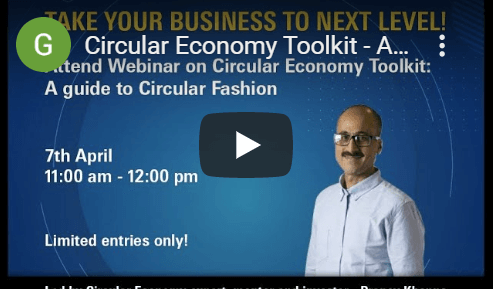 Circular Economy Toolkit - A Guide to Circular Fashion
In this insightful webinar hosted by Gartex Texprocess India, leading circular economy and sustainable fashion expert, Mr. Pranav Khanna shared exclusive tips on how companies can benefit by adapting to a circular economy. Here's what he had to say about the current COVID19 crisis and companies taking a sustainable route.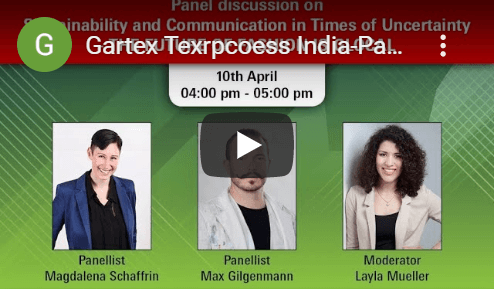 Sustainability and Communication in Times of Uncertainty – The Future of Fashion is Glocal
Explaining the concepts around sustainability, Mr. Max Gilgenmann, CEO, Kaleidoscope Berlin, shared various insights on planning the communication strategy during and post COVID19; while talking on circularity in fashion, Ms. Magdalena Schaffrin, CEO, Kaleidoscope Berlin highlighted how to make businesses glocal (global + local).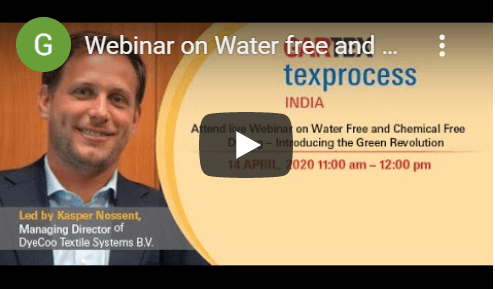 Water Free and Chemical Free Dyeing
This webinar on chemical and water-free dyeing, was hosted by Gartex Texprocess India, wherein Mr. Kasper Nossent brought the attention of attendees to the amount of water being wasted in the textile industry along with how companies must find a balance between economic and sustainable growth. Here's what he had to say about water wastage and how to rein in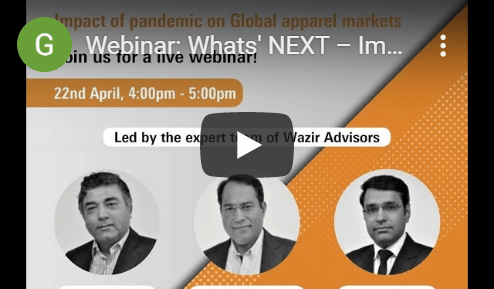 What's Next? Impact of Pandemic on Global Apparel Markets
Addressing the concern, Mr. Prashant Agarwal emphasised on the significance of virtual integration and collaborative efforts from every sector under the apparel industry, while Mr. Varun Vaid elaborated on the global market share opportunities that India possesses, and Mr. Harinder Sahni summarised the core factors that are expected to impact the Indian apparel industry. Here's what all was discussed in the webinar organised by Gartex Texprocess India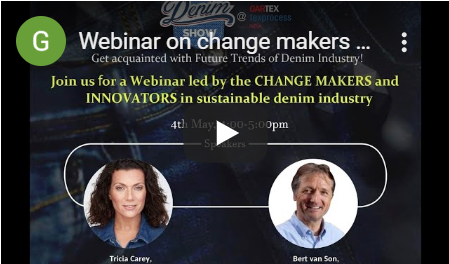 Webinar on change makers & innovators in the sustainable denim industry
As the current situation has affected the natural order of system, the need for sustainability has become more imperative than ever. During the webinar organised by Gartex Texprocess India, Tricia Carey and Bert Van Son, threw light on the changes, developments and future trends of denim industry.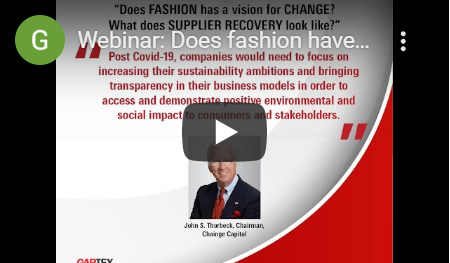 Does fashion have a vision for change? What does supplier recovery look like?
Explaining the importance of #SustainableFashion, Mr John S. Thorbeck spoke about the need to strike a balance between environmental and socio-economic aspects. Here's what he shared at the #webinar
Download
Register Now
Show Countdown
MUMBAI
Jio World Convention Centre, Bandra Kurla Complex, Mumbai
DELHI
Pragati Maidan, New Delhi
days
Hours
Minutes
Seconds